Riga is the capital of Latvia, the centre of finances, transport and transactions in the Baltic States.
The 700,000 inhabitants of Riga make it the largest city in the Baltic States.
Riga was founded in 1201 by Albert of Bremen as a port city, and more than 800-year-old blend of a medieval centre and a modern city. Each century has left its marks on the architecture in the Old Town and City Centre. The centre of Riga (Old Riga) has kept many cultural and historical evidence this day that are disclosed by narrow streets of the Old Riga built in Medieval Times, which still are covered with medieval pavement. Gothic churches, built by founders of Riga, exquisite Art Nouveau, as well as wooden buildings make Riga a true pearl of architecture.
Since 1997, the old town of Riga is part of the UNESCO World Heritage List.
In 2014 Riga received the title to become European Capital of Culture. Riga can be proud of its rich cultural life because there are different celebrations of culture, concerts, exhibitions and festivals every week that present works of world-known classical and contemporary artists.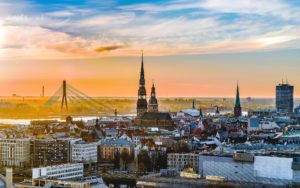 Riga's restaurants offer fusion cuisine, where one can taste Latvian traditional meals, and traditional meals offering an astonishing combination of tastes and taking you for an exciting gastronomic journey.
Riga is a great place for active holidays as well. Marathon, orienteering, and adventure competitions – those are only few of the activities which one may enjoy in Riga. Parks are perfect for jogging in summer and skiing in winter. There is something for all sport enthusiasts.

Riga is the pearl of Latvia, and there are many beautiful and culturally rich places to visit. To learn more about them visit Live Riga.