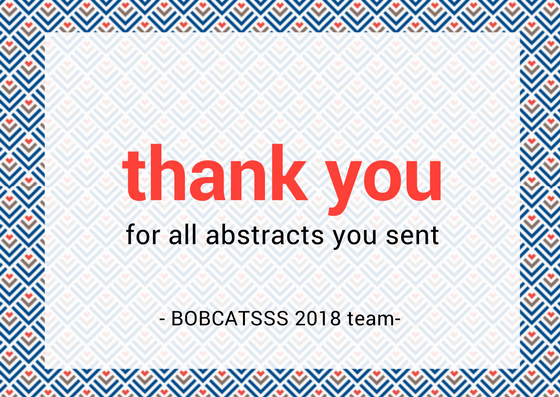 Thank you for all the interesting abstracts you sent us!
The author's notifications have been sent to everyone who sent us an abstract. Go and check your inbox.
Here you will be able to open reviews as well submit your contribution >>> https://cmt3.research.microsoft.com/BOBCATSSS2018
When submitting Full-text, please provide a short (word limit: 100) abstract summary when you submit your work. The summary will be included in a printed abstract booklet.
NB Only those papers that will be presented at the symposium will be included in the proceedings.
II
---
Important dates
1st Call for Papers – June 16, 2017
2nd Call for Papers – August 17, 2017
3rd Call for Papers – September 13, 2017
Deadline for abstract submission – September 20, 2017  October 11, 2017   October 15, 2017
Notification of acceptance for abstracts – November 15, 2017
Upload final Full-Text of contribution via the conference tool – December 20, 2017
BOBCATSSS 2018 – January 24-26, 2018
---
Guidelines
A paper version of the Guidelines for Abstract and Full-Text and detailed information on submission requirements can be downloaded here >>> Call for Papers Guidelines 2018.
Please review the guidelines and reviews before submitting your Full-Text.
    I
---
Forms of Presentation
For more information on each form – click on the photo.